"she could feel the path… under her feet and wasn't afraid…"
A Zen Moments reader sent us the picture below and told us its inspiring story:
"Colored Path" was a gift to my sister, symbolizing her new beginning after 11 years of domestic violence.
My "Zen moment" was when she told me that she now felt like she could feel the path in this painting, under her feet and wasn't afraid to follow it!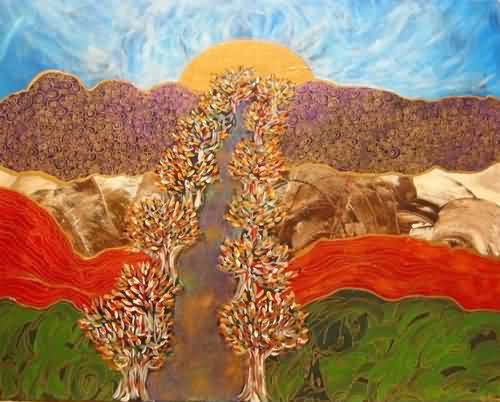 "Colored Path" A Painting by Sheri – an artist from Ohio, USA.
---
Lower Photo: "Colored Path by Sheri" – Kindly contributed to Zen Moments by the artist.
Top Photo: Chopwell – Winding path 2 by immarkcz

---
Mars and Venus Starting Over: A Practical Guide for Finding Love Again After a Painful Breakup, Divorce, or the Loss of a Loved One
By John Gray
"A MUST for anyone who has a broken heart!"


John Gray.. introduces the grieving process in a manner that feels right during heartbreak. His caring nature comes through in this book and is a great structure to grab onto when a relationship has ended in your life.
His brilliance and compassion is evident in this book and I hope you use it during a tough time for yourself. I have learned so much about myself after a death of a loved one. In addition, I learned how to support others at their time of need.
Strong and supportive read!" – Merna Throne

"Starting over after a divorce, a painful breakup, or the death of a loved one can be the most challenging experience of a lifetime…
Eventually, when the healing process is complete, we fully let go. In our minds and hearts, we surrender and accept that we can't change what has happened. Being single again, we start to rebuild our lives. Once more,we begin to reach out to give and receive love. Although we could not have imagined it, our lives come back to a sense of normalcy. After the darkness of despair, the warm, comforting, and soothing sunshine of love reveals itself once again. Although this happy ending is possible, it is not guaranteed…
When a bone breaks, our body already contains the natural healing power to correct the problem. It hurts, but eventually the pain goes away… In a similar way,if you are able to nurture the healing of a broken heart, it also will grow back stronger. The pain and despair will pass, and you will find love and joy again.
When a broken heart heals it actually grows back stronger." Extract from the book: Mars and Venus Starting Over by John Gray